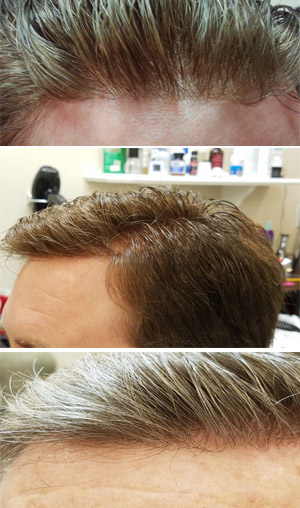 Actual Client Photos
Hair Replacement for Men
Hair loss can affect men of all ages for many reasons such as hormones, alopecia, heredity and stress. Others may suffer hair loss due to injury such as cuts or burns to the scalp. Whatever the reason, hair loss/hair thinning/balding can change the way you see yourself and image. Distinguished Gentleman can help you regain confidence in your appearance by offering a non-surgical approach to your hair transformation. We offer the best technology has to offer in giving you a natural looking, long-lasting head of hair without expensive surgeries and downtime in healing and recovery. You can have a full head of hair in weeks!
Below is an example of what our clients have to say about Distinguished Gentleman:
"As a television producer out of Los Angeles I hired Andrea to do some work for us locally in Kansas City and she knocked it out of the park! Her attention to detail and ability to work on a tight deadline while also adjusting to our insane shooting schedule was fantastic. She was a pleasure to work with and kept a smile on her face throughout. I highly recommend Andrea to anyone and will certainly be calling her again for any future work I'm doing in town." Daren W. - Supervising Producer
Read more testimonials and contact our office for more information or to set up a consultation.
Hair Replacement for Women
Hair thinning and hair loss for women can create much stress for those experiencing it. Common causes of hair loss for women is due to hereditary factors, hormones, stress and autoimmune issues. Although it is more common to hear about men losing hair, women also suffer from balding and hair thinning. Hair loss in women, although common, is not discussed as openly as for men and can create more emotional stress for those going through it.
We can help! We understand what you are going through and can help you find the best solution to give you an natural, stylish look to give you more confidence. We offer a variety of colors, textures and styles to fit your personality and natural hair type. As always, our process gives you fuller hair, faster and without long recovery times from surgery. Contact our office for more information or to set up a consultation.
*We carry Raquel Welch and Eva Gabor wigs in a variety of styles.
Cut & Style
Distinguished Gentleman is also a full-service salon, providing the latest cuts, styles, coloring techniques and more. We will give you a stylish look that will make you look fabulous.